The early history of Bailiesmills is closely connected with the Knockbracken congregation. In the 18th century Reformed Presbyterians (Covenanters) were organised into Societies – each Society being made up of 8-12 families. The Society was often given the name of the townland where the families lived. These Societies would meet regularly in the homes of one of the members for mutual fellowship, spiritual instruction and prayer.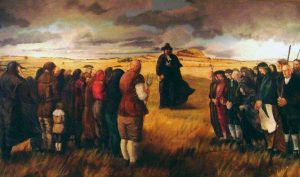 For many years the Society people had no ministers in Ireland. Occasionally Scottish Covenanter ministers came to preach at large open-air services called 'Conventicles'. At such meetings the Sacrament of the Lord's Supper would be observed and children would be baptised.
In 1772 the Covenanter Societies between Donaghadee and the bridge at Dromore issued a Call to licentiate Mr William Staveley. After Mr Staveley accepted the Call he made Knockbracken the centre of his labours where a meeting house was built.
For some 30 years, after the building of Knockbracken meeting house, the Societies of Carr, Creevy and Bailiesmills were under the supervision of Knockbracken Session and enjoyed the ministry of Mr. Staveley. However by 1807 Bailiesmills had sufficient strength to be organised as a separate congregation. When the Eastern Presbytery was formed in 1810, Bailiesmills was one of its constituent congregations.
It was some years before the new congregation had its first minister. In 1826 John Wright Graham was ordained and served the congregation with great devotion and distinction until his death in 1862.
Since then the following ministers have served the congregation: Thomas Houston Dick 1863-1882; Samuel Rea McNeilly 1887-1926; John Watters 1927-1968; James A Ritchie 1969-1974; Stewart McMahon 1978-1988; and George McEwen 1990-2008. During Mr. McEwen's pastorate the original building was replaced by a new one, which was opened on 12th March 1994.
A new chapter in the life of the congregation began on 8th September 2012 with the ordination and installation of Dr. John Watterson.
Church Records: Contact Public Records Office of Northern Ireland – www.proni.gov.uk